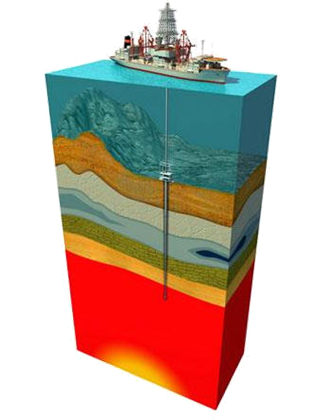 Taiwan-Japan Deep Drilling Science Symposium
Dates: 1st-4th February 2016
Venue: Department of Earth Sciences, National Central University, Taiwan
1. Background and objectives
Deep drilling is a direct method to retrieve deep subsurface rocks and to measure rock physical properties. It is an indispensable technology to explore the deep earth either for scientific understandings or for exploitation of subsurface resources. The organizing committee would like to introduce the most advanced drilling, coring, and well-logging technology along with integrated core-log interpretations to the Taiwanese geoscience community. We therefore invite a group of scientists from JAMSTEC (Japan Agency for Marine-Earth Science and Technology) to Taiwan in early February of 2016 to discuss with Taiwanese geoscientists on current and past deep drilling results as well as to give short courses for students on advanced coring and logging technology and interpretations. The invited JAMSTEC scientists are responsible for conducting coring and well logging onboard the Chikyu drilling vessel (D/V) and subsequent scientific analyses. The D/V Chikyu is the most advanced scientific deep-sea drilling platform that can penetrate 7 km beneath the seabed. This vessel is operated by JAMSTEC and it is also one of the drill ships under the International Ocean Discovery Program (IODP).

The "Taiwan-Japan Deep Drilling Science Symposium" will be held during 1st -4th February 2016 at National Central University and it consists of two parts. The first part of symposium is entitled "Highlights and Results from the Current and Past Challenging Deep Drilling Projects", which will be held on 1st February. The second part is entitled "Short Course on Core & Logging Data Interpretation and Integration", which will be held during 2nd -4th February. The first-day short course (2nd February) is open to everyone but the rest of lectures/exercises during 3rd– 4th February are only meant for 20 selected participants.

All the participants for the symposium are required to register through this website http://goo.gl/forms/7HR3aPM6zg

The latter two days (3rd– 4th February) are designed for 20 devoted participants with extensive group exercises and group presentations and hence it is only for selected participants. The selection is based on the intention of the applicants and a reference letter from the applicant's supervisor (either English or Chinese is OK)
For application please prepare two documents and email to Ms. Wu, at xmallwolf06@gmail.com before 2016.1.22(Fri.): (1) CV including a brief description for the purposes of attending this short course, and (2) a reference letter from supervisor/manager.

2. List of invited speakers/lecturers
JAMSTEC scientists

Dr. Yasuhiro Yamada

Director, Research & Development Center for Ocean Drilling Science (ODS)

Dr. Kyaw Moe

Deputy Director, ODS

Dr. Saneatsu Saito

Group Leader for Sedimentary Basin Drilling Research Group, ODS

Dr. Yoshinori Sanada

Senior Engineer, Center for Deep Earth Exploration (CDEX), ODS

Dr. Yohei Hamada

Researcher, Fault Mechanics Research Group, Kochi Institute for Core Sample Research

Taiwanese Scientists

Prof. Chien-Ying Wang (王乾盈)

Department of Earth Sciences, National Central University (NCU)

Dr. Yi-Heng Li (李奕亨)

Green Energy and Environment Research Laboratories, Industrial Technology Research Institute (ITRI)

Prof. Char-Shine Liu (劉家瑄)

Institute of Oceanography, National Taiwan University (NTU)

Prof. Andrew Tien-Shun Lin (林殿順)

Department of Earth Sciences, NCU

Dr. Chi-Wen Yu (俞旗文)

Sinotech Engineering Consultants, Ltd

Prof. Li-Wei Kuo (郭力維)

Department of Earth Sciences, NCU

Prof. En-Chao Yeh (葉恩肇)

Department of Earth Sciences, National Taiwan Normal University (NTNU)

3. Organizers
National Central University (Taiwan), JAMSTEC (Japan Agency for Marine-Earth Science and Technology), Center for Ocean Drilling Science (ODS), Japan Drilling Earth Science Consortium (J-DESC), Geothermal Energy and Gas Hydrate Focus Center, NEP-II, Ministry of Science and Technology (Taiwan), Geological Society of Japan, Geological Society Located in Taipei

4. Sponsors
Geothermal Energy and Gas Hydrate Focus Center, NEP-II, Ministry of Science and Technology (Taiwan), Central Geological Survey, Ministry of Economic Affairs, Chinese Taipei Geophysical Society
5. Organizing committee
Prof. Andrew T. Lin (NCU), Dr. Yasuhiro Yamada (JAMSTEC), Prof. Char-Shine Liu (NTU), Prof. Horng-Yuan Yen (NCU), Prof. Chien-Ying Wang (NCU), Prof. How-Wei Chen (NCU), Prof. Li-Wei Kuo (NCU), Prof. Min-Te Chen (NTOU), Prof. Saulwood Lin (NTU)


6. Agenda
PART I:

"Deep Drilling Science" Taiwan-Japan Joint Symposium:

Highlights and Results from the Current and Past Challenging Deep Drilling Projects

February 1, 2016 (Monday)
Room S135, Department of Earth Sciences, National Central University, Taiwan

Time

Title

Speaker

Chair

08:30 - 09:00

Registration and welcome reception

09:00 - 09:10

Opening Remarks

Prof. Yen-Hsyang Chu

09:10 - 10:00

Lecture 1: An introduction to D/V Chikyu drilling expeditions

Dr. Yasuhiro Yamada

Prof. Chien-Ying Wang

10:00 - 10:30

Break

10:30 - 11:00

Lecture 2: Taiwan Geothermal Energy Drilling Project Part I: Ilan Plain

Prof. Chien-Ying Wang/NCU

Dr. Yasuhiro Yamada

11:00 - 11:30

Lecture 3: Taiwan Geothermal Energy Drilling Project Part II: Tatun Volcano Area

Dr. Yi-Heng Li /ITRI

11:30 - 11:50

Lecture 4: Potential Taiwan Gas Hydrate Deep Drilling Proposal

Prof. Char-Shine Liu/NTU

11:50 - 12:20

Lecture 5: Taiwan CO2 Geological Storage Drilling

Dr. Chi-Wen Yu/Sinotech

12:20 - 14:00

Lunch

14:00 - 14:30

Lecture 6: Lessons from Seismogenic Fault Drilling Projects

Prof. Li-Wei Kuo/NCU

Prof. Char-Shine Liu

14:30 - 15:00

Lecture 7: Stress states from deep drilling boreholes

Prof. En-Chao Yeh/NTNU

15:00 - 15:15

Lecture 8: Potential seismogenic fault drilling in the Manila subduction zone

Prof. Andrew Lin/NCU

15:15 - 15:40

Break

15:40 - 17:00

Discussion on future projects and collaborations

Prof. Andrew Lin and Dr. Yasuhiro Yamada
PART II:


Short Course on Core & Logging Data Interpretation and Integration Drilling and logging, Data Acquisition, Integration and Interpretation

February 2, 2016 (Tuesday)
Room S135, Department of Earth Sciences, National Central University, Taiwan

Time

Title

Speaker

09:30 - 09:40

Opening

Dr. Yasuhiro Yamada

09:40 - 10:10

Introduction

Dr. Saneatsu Saito

10:10 - 11:20

Basic of drilling, coring, logging measurements in scientific drilling expeditions

Dr. Kyaw Moe

11:20 - 11:50

Resistivity

Dr. Yohei Hamada

11:50 - 13:00

Lunch

13:00 - 13:30

Natural gamma-ray, density, porosity logging

Dr. Yohei Hamada

13:30 - 13:50

Sonic logging

Dr. Yoshinori Sanada

13:50 - 14:10

VSP (checkshot, average/interval velocity, seismogram)

Dr. Yoshinori Sanada

14:10 - 14:30

Borehole image

Dr. Saneatsu Saito

14:30 - 14:50

Break

14:50 - 15:20

LWD/MWD

Dr. Kyaw Moe

15:20 - 15:50

Log Characterization (logging unit, description)

Dr. Yoshinori Sanada

15:50 - 17:00

Interpretation & Integration(Geology, PP, structure, Geomechanical, Geochemical, CLSI)

Dr. Saneatsu Saito
PART II: (For Selected Participants)


Short Course on Core & Logging Data Interpretation and Integration
Exercises and Group Presentations

3 February (Wednesday)
Computer Class Room (S218), Department of Earth Sciences, National Central University, Taiwan

Time

Title

09:30 - 11:00

Exercise I (logging unit, description)

11:00 - 12:00

Intermediate presentation by each group work

12:00 - 13:00

Lunch

13:00 - 17:00

Group work: Exercise II (Log interpretation)
PART II: (For Selected Participants)

Short Course on Core & Logging Data Interpretation and Integration
Exercises and Group Presentations

4 February (Thursday)
Computer Class Room (S215-1), Department of Earth Sciences, National Central University, Taiwan

Time

Title

09:30 - 12:00

Exercise II

12:00 - 13:00

Lunch

13:00 - 15:00

Final Presentation by each group

15:00 - 15:45

Discussion, Q&A

15:45 - 16:00

Closing remarks

16:00 – 17:00

Farewell Party
Contacts:
Yi-Hsuan Wu
xmallwolf06@gmail.com
03-4227151#65665
For registration please visit: http://goo.gl/forms/7HR3aPM6zg